Smart Cities, Smart homes are the way of the future, is what most technology companies keep on saying. And Philips hue lights for your Saudi Arabia home falls in this smart category. The role of IoT, AI have reached to an extent where nothing is impossible now. One of the greatest boons of this is the smart home system. Of which the smart operation of appliances through your mobile phone. Smart lighting is something which is very convenient and is something all of us felt the need for at some point. Philips Hue for Saudi Arabia offers this convenience with multiple offerings. The smart lighting for your home both indoors and outdoors suitable for your daily and special occasions are what it provides. Colour up your life with Philips Hue.
Quick List
What is Smart Lighting?
As the name would suggest smart lighting is a lighting technology which enables you to control the lighting of your home with the help of a mobile application. Be it switching on, setting a particular density or even changing colours of the lights of your home. Just like any original bulb or lighting system, these light require no special arrangements. Just fix them into place and you are to use your smart lighting system. Although you might find this really very easy choosing the right Philips Hue light in Saudi Arabia can be hard. As they offer a wide range of lights to choose from. Hence this guide for the best Philips hue lighting in Saudi Arabia.
How Does Philips Hue Lighting Work?
Philips Hue in Saudi Arabia is a combination of smart LED light bulbs which all work individually while communicating with the Hue Bridge. The Hue Bridge is the brain of the lights and with the help of this, you can operate and control the settings of your lights with the help of your smartphone.
For the Philips Hue lights to function properly they are connected to the WiFi and Zigbee wireless system of your home. This is the result of how the light operates with the help of your smartphone. From where you can adjust the colour, brightness, and even use other smart home technology of your home and much more. With the help of the technology, you can even go ahead and access your digital voice assistance to get the accustomed settings for your home without having to touch your phone. Therefore if you have Alexa or Google Assitance your voice is enough to control your smart lighting.
Now, if this sounds like your cup of tea, it is essential for you to get the Hue Bridge. As this is the device which controls the voice command control and triggers the automated controls. Mainly, because the lights aren't connected to the Wi-Fi but this device is making it the brain of the system.
Philips Hue – Starter Kit
The Philips Hue Starter Kit is a set which has the Bridge and set of light bulbs of your choice. There is no fixed price for this kit as it would differ depending on the blub you would choose. Nevertheless, This is an essential kit which will be worth the price you spend. As you will be able to use the Bridge to control all your Philips Hue bulbs in UAE. Here you can get the most basic kit with the Bridge and 2 light bulbs or the more advanced ones. Which consists of 4 multicoloured lights along with the Bridge at a slightly higher price.
Converting your home setting into that of a smart home with smart lighting need not be a task which needs to be done all in one go. It would be suggested that if you haven't tried these lights before then stick to one room first. Maybe the one where you would spend most of your time. Understanding the working of the lights and if it really works for you, consider expanding to other rooms of your home gradually. Since a single Hue Bridge can take up to and control 50 light blubs to it, you won't have to keep getting a new Hue Bridge.
Furthermore, you can enhance your experience with the lighting by getting yourself the Hue tap. Which would be considered and has the title of 'best accessory' in the IoT. This device is a four-button remote. Which can control your lights as well as works with the Apple-home kit. You will never have to charge this device since it powers itself when switched on.
Setting up a Philips Hue Bridge
To make sure the Hue Bridge works its wonders it is necessary for you to set it up correctly. This shouldn't at all be time consuming. Before you get to do that make sure you download the Philips Hue App onto your smart phone. When that is done go ahead and make sure you've plugged in the Hue Bridge to a power outlet. Followed by which connect it to your Wi-Fi connection with the help of a Ethernet cable. Once that is done you'll have to give it some time to boot up properly. When this booting is done four lights will light up on the Hue Bridge. This is when you can connect your smartphone to the Bridge from the settings. And then use the previously installed Philips Hue app and form a link to the Bridge.
Once you have completed all of the above steps of setting up the Hue Bridge. Get your light bulbs from the starter kit and set those up. And you are ready to use your smart lighting.
Setup of a Philips Hue Bulb
After completing the whole Bridge setup it comes to the bulbs. Here, you take the bulbs purchased and fix them into its place in the socket. Once that is done your halfway done. Step 2 would be, you open the Philips Hue App, and go to the settings. There you click on the light setup. After that, you can search for the light bulb manually or add it with the serial number. This will be followed with a few step instructions given by the app when you have successfully completed that you're to go. Although it would be advisable if you go back to the app and rename the light bulbs. This will be of great use to know which exactly is which bulb. More when you expand the Philips Hue lighting to your whole Saudi Arabia home.
Connecting Philips Hue with Alexa
Getting a Hue Bridge isn't a necessity but is an add on accessory for your convenience. If you do not feel the need for this you can simply control the lights with the remote accessibility. In this case, a Hue dimmer switch can be used. Or the Bluetooth feature on recent bulbs allows you to control them as well. The only limitation would be is that you won't be able to connect more than 10 bulbs. Since this doesn't support more then 10 bulbs, it will be a better option if you do not plan on expanding your smart lighting to your whole home. Furthermore, if you do feel like expanding in the further you can always go back and get the starter kit which has a Hue Bridge.
Now if you have the Amazon's Alexa/Echo this is another added feature to your smart lighting. As you can control your lights without the help of a Bridge. This is possible because they both use the same Zigbee hub technology. But this too can limit you from a lot of features which only the Hue Bridge allows. This includes lights switching on/off with the help of sensor control depending on when the room is empty or not. Non will you be able to control and automatically switch on/off at a particular time. Furthermore, you won't be able to sync your music and lights together. And without the Bridge, you will not be able to use or access any third-party apps.
Even after that if you think that setting your Hue lights with Amazon Echo/Alexa will be a better option for you that then here are a few steps for you to do that:
Make sure your whole Hue light setting is in place and ready to be connected.
Get the Philips Hue Skill app on your smartphone for your Alexa device.
Followed by asking Alexa to find your devices. And then hold on a few minutes till your bulb is found and the scan is complete.
Once that is done you can connect the bulb through the app manually. Or simply command Alexa to do it for you.
Furthermore, now you can group certain lights together and even connect to your other smart home devices. This will help you control devices and lights together. Moreover, to make it even easier name them individually and avoid confusion.
If you designed a whole special setting with the help for the app then controlling it is easy with Alexa (Although this is possible and made easy with the Bridge but use Alexa to control the lights).
Theming and creating the perfect scene by grouping lights together is now easy. Match your lights to the setting of your room to given an enhanced appearance and convenience. And use the Alexa app to customise them as well that too without the Hue Bridge. Yet if you wish to use the Philips Hue app then the Hue Bridge is necessary.
Philips Hue Light Fixtures for Saudi Arabia
You might be bored of the same old lighting design with the only variation being the colour with the Philips Hue in your Saudi Arabia home. Therefore, in such a case you have different shapes, sizes and types of lights. All you have to consider what type and where you would like to place it. Finding candle-shaped bulbs, curved bulbs, flat ceiling bulbs and filament bulbs for a vintage look is easy. Furthermore, Philips itself offers a variety of basic standard range colour bulbs like shades of white. Moreover, it's flagship range offers up to 16 million colours and shades for you to choose from. At that too at an affordable price range. Therefore, here is a list of those bulbs and fixtures that you can incorporate into your house settings.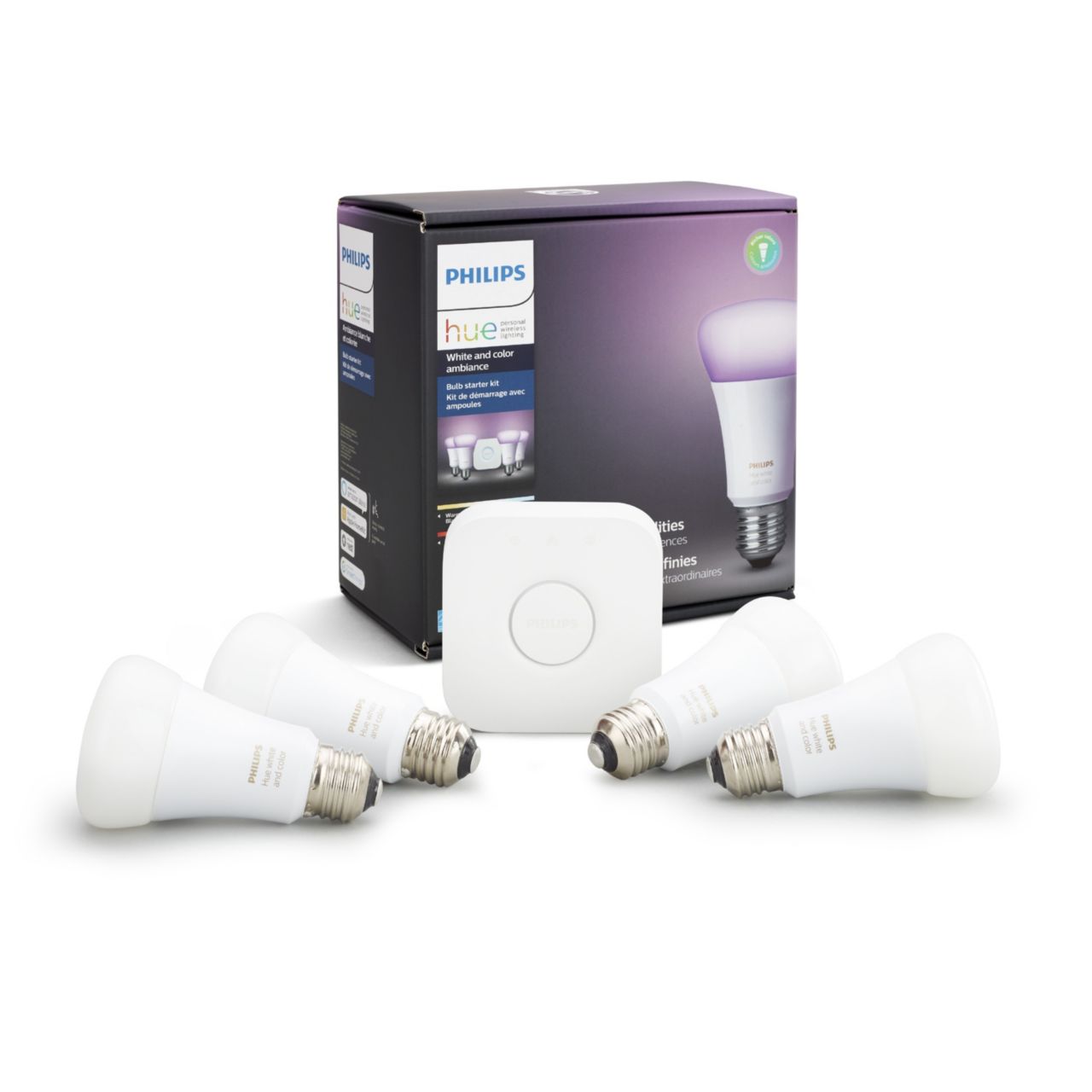 Type: 4 LED White and Color Ambiance Bulbs and Hue Bridge
Compatibility: Amazon Alexa, Google Assistant, and Siri (Apple Home Kit).
Voice control: Yes.
Smart Control: You could connect the bridge to your mobile and then operate the lights as per your convenience.
Lighting Effect: You can use upto 16 million colors and multiple shades of white as per your mood, ambiance.
Price: This costs you SAR 1590
Type: LED Bar Lights
Mountable: You can mount the bar lights behind your TV sets for ambience adding to your living room
Simple Connection: You can connect up to 3 bar lights using a single plug so you don't have to worry about too many wires.
Smart Control: Connected through Hue Bridge and simple to control.
Light Effects: Use up to 16 million colors and 50,000 shades of cool to warm light to create moments .
Compatibility: Amazon Alexa, Google Assistant, and Siri (Apple Home Kit).
Voice Control: Yes
Price: SAR 1390
Type: Indoor and outdoor lantern
Styles: Wall and ceiling fixture, Wall down lantern (image), wall up lantern.
Compatibility: Amazon Alexa, Google Assistant, and Siri (Apple Home Kit)
Voice control: Yes
Light effects: Balanced and well-distributed light with 16 million colours to choose from. Choose warmer red tones or a cool blue to light up your porch.
Weather Proof: They are made of high quality aluminum and tempered glass and the internal circuitry is all tested and proved to be completely safe even in wet conditions. It is UL Wet location rated.
High Output: They are designed to suit outside environment like garden or entrance areas. Its high light output ensures your entire garden is lit up.
Timer Facility: You can set the timing of operation to save energy and also create special moments using it. Set the time for ON and OFF and completely relax , it does its job perfectly.
Smart Control: Through Hue Bridge.
Price: SAR 945
Type: Table lamp, portable LED light.
Compatibility: Works with Amazon Alexa, Google Assistant, and Siri (Apple Home Kit).
Voice control: Yes
Light effects: 5 patented natural dynamic effects: cosy candle, Sunday coffee, meditation, enchanted forest, and night adventure.
Use: Best used for a small pool of light on your table, ideal for reading, working on your laptop, or performing tasks testing hand dexterity.
Price: SAR 543
Type: Indoor and outdoor light strip
Styles: Adjustable thickness to fit the desired area.
Compatibility: Amazon Alexa, Google Assistant, and Siri (Apple Home Kit)
Voice control: Yes
Light effects: Balanced and well-distributed light with 16 million colours to choose from. Choose warmer red tones or a cool blue to light up your porch.
Use: Great for outdoor use, decorate your front door or porch. Ideal to illuminate pieces of furniture, fill in behind false ceilings, or decorate garden swings with.
Price: SAR 990
4 Philips Hue Smart Lighting Tricks
Indoor Mood
Uplift your indoor mood with the Philips Hue Light-strips. As they can add the touch of drama and accentuate a particular area well. Since they are as long as 40-inches they can cover more area and surfaces compared to the regular lights. Moreover, these strip lights can be bent to form or border anything or area. This makes it nifty and versatile. Therefore, with the help of these lights, you can decorate and light-up an otherwise simple and boring wall. Under kitchen counters, behind TV panels or couches, or to light up your false ceiling areas you can use them anywhere. In addition to that, you can trim the lights if feel like you to any size as it has cut marks for easy cutting.
Outdoor Lighting with Motion Sensors
For your outdoor lighting, you can do a lot of things to uplift and change the ambience of your home. Other than using simple light-strips, try getting the Philips Hue smart lighting full outdoor range. Wherein the set consists of various wall mounts, bulbs and spotlights along with the light-strips. With the help of a few powerful lights such as a spotlight, you can break down tones and highlight maybe stones structures, flowerbeds or water ponds. Moreover, light up any paths in your garden with the help of the Philips Hue Calla.
Now, once you light up your garden area, we understand that it can be a chore to go on lighting every light every day. And talking to Alexa on the driveway obviously isn't suitable. Therefore we've got a solution. Grab your own Philips Hue motion sensor which will allow complete automation. All you have to do for this is, select a location the most convenient being just outside your doorstep or at your gate. At these places, you can set the motion sensors and wouldn't have to worry about the lighting any more. Setting up your own sensor is easy. Here is a guide on how you can do it yourself:
With the help of the Hue app get into the setting options.
From there look for accessories setup and select add accessory. After that add the Hue motion sensor.
Later you will have to tap the LED blinking. Doing this will confirm the pairing with an the orange LED color and allow.
Lastly, follow the instructions as will be given and choose the outdoor area. Making sure to choose all the lights that the sensor controls.
Create Scenes
One of the main reasons why you would get smart lighting is that you can have your own scenes and settings. Since the slightly higher-priced blubs have a feature which let you choose a variety of light animation. You can choose your own scenic settings surrounding to your mood. Moreover, even if the setting you wish isn't available then you can create it yourself. Therefore, this is a feature to die for. As they work perfectly to set the mood be it for a house party, game night or even a movie night. Besides, being a bit extra never hurt anyone. So, why not with adding themes and lighting effects. Furthermore, you can use any third-party applications without spending hours trying to create more varieties. Of course, for the best execution, you need to have the Hue Bridge.
Light Animations
Now, light annimations in all it's glory truly is an interesting feature. Here you can sync you lights and music together. While you do this the app detects the music with the help of your smartphone's microphone which is playing from your external speaker. This leads to, if you listen really very very minutly you might realise that there is a very minute delay in the syncing. Which actually is never detectable. Furthermore, if you happen to be also having a home theatre this feature adds to the whole viewing experience. Enriching your sound and sight senses to a whole new level. Besides this, you can smartly match the theme of your room by simply pointing your phone camera towards the screen. And there you will have your Philips Hue lights in Saudi Arabia match colour which matches to your screen.
FAQs
How to Setup Philips Hue?
Considering you got the smart lighting for your home. This right here is a guide on how to set them up correctly. For a normal setting of the Philips Hue lights in your Saudi Arabia home, all you have to do is set up the Hue Bridge. After you plug that in you can connect this device to your router/Wi-Fi with the help of the Ethernet cable. Next-up you get the Hue bulbs and screw them to place in the bulb socket holder. Once that is done you can connect your Dimmer place it on the wall or have it like a remote. It works either way since it is magnetic.

After you get that done, you will need to get the Philips Hue app on your smartphone. Open that app and follow the instructions informed on the app. This will lead you to a paired device. Make sure to rename them for ease of operation. Just don't go over the top with the naming as it might create problems while using your assistance like Alex or Siri. The Hue apps have a lot of presets and light tones for you to choose from so here you can go crazy and experiment with all of those to find the best one for you.


Where to buy Philips Hue in Saudi Arabia?
Don't fret, as getting your own Philips Hue lights is easy. You can sit in the comfort of your home or office and order the original products off Amazon.ae. This will surely save time and effort from you physically having to purchase the items from a store. Make sure you check out Amazon.ae now for all the Philips Hue products and accessories all in one place that too at a reasonable price.


What does Philips Hue work with?
Philips Hue works with the help of ZigBee technology. Which is safe and completely reliable with a lot of features available as well. Some of which include that your technology will work even if your internet is slow or down. Moreover, you will never have to manually update the technology as it does it on its own. Therefore, you will always be up to date with the latest version. Furthermore, this Philips Hue technology can work wonders, because it's pairable with other smart devices. Like your voice assistant or smart TV or music.


Which Philips Hue to buy?
With the wide range of assesories and lights with fascinating design available can make the decision process difficult. Therefore, we've taken the time and researched and reviewed the product to find the best ones for you. Which are mentioned above in this article guide. Each one of them has different designs and ways in which you can use them to brighten up your home. So, make sure to check them all.


What should be my first Hue purchase?
You can dive right into getting the new Hue blubs, but you will be limited to usage in that case. Moreover, if you go ahead and purchase only a Hue Bridge your lose in on the value offer. Since you can get the starter kit with a bridge and light bulbs. 2 or 4 depends on which you would like to have and at what price range. Since hue lights can be incorporated into any setting of your home. Be it your living area, kitchen, bedroom and washrooms. You can slowly expand your hue light settings to the whole home as and when you feel like doing it. Besides, when you do expand you wouldn't have to stick to the normal boring light bulbs and switch to other designs and colours as well.


What is a Philips Hue Bridge?
Think of the Philips Hue Bridge as the brain. Since the bridge connects and controls every individual smart bulb in the set. This device can connect and let you control up to 50 lights and accessories. And is very simple to use all you would have to do is plug it in with a few settings are ready to use your fully functional smart lit home.


Do I need the Hue Bridge?
For the basic functions of the Hue lighting like switching them on and off an alternative of an Alexa or Google Assistant is good enough to use. If this is all you would use your Bridge for then the device isn't a necessity. However, using a bridge lets you do much more than switching off/on the lights. Without the bridge, you would be holding back on the capabilities and advanced functions of the smart lighting system. Furthermore, your Alexa or other Assitance devices will only let you connect up to 10 bulbs at a time. Which is a major drop compared to the Bridge's 50.


How do I update my Philips Hue system?
Just like any other app on your phone, you will be able to update your Philips Hue app. And from this app, you can find and look for updates to your Hue Bridge as well. You will only have to look for the settings on the Hue app and select the "Software update" option. And if there is any update your system will be updated. So, these two parts of the system will update from time to time.


Do I need an internet connection for hue to work?
No, you will not need an internet connection for every second of the day. As these lights including the system can work even if your internet connectivity is slow or is down. But if this is the case you will not be able to control the lights when you are not home with the help of your phone that is.


How long do Philips Hue Bulbs last?
These particular Philips Hue smart lighting bulbs have the life span of around 15 years or 15,000 hours. For whatever reason whichever comes first. The Philips brand assures that their light bulbs take up less power as compared to any other incandescent bulbs. Due to which the Philips blub last longer than the regular incandescent bulbs which are 1,000 to 2,000 hours.


What does "Integrated LED" mean?
Integrated LED lights generally are in-built lights. In the sense that the LED light comes built into the fixture itself. Which means they do not need a separate holder. This is available with the Hue range as well. These lights are mostly seen as the ones fixed onto a dressing table. Which has the right light vibe to it.


Can I sync Philips Hue with games and movies?
Yes, you can sync your games and movies with your lighting system. Although there are a few conditions for this to work. That being that you need Philips Hue Sync app on the device on which you are going to be playing/ streaming the content. After getting this done, you need to open the app and set a designated area where you want the lights to be synced to. Therefore, with the help of the app select areas, you wish the lights to be synced. And you're ready to go.

Although you must keep in mind that the syncing happens only with multi-coloured bulbs. That is which has the ability to produce multiple colours. Also, with the help of the app, you can adjust the strength, frequency and the intensity of the lights according to your likes and wants. Moreover, this can be done individually to certain bulbs or to all the grouped bulbs.


I just want to change the colours of my home. What should I buy?
A little mixing up now and then will not harm you. Especially for in house events when the setting can get boring after some time. Then it would be a great idea for you to invest in the WiFi alternatives rather than the hub. Therefore in this case you can choose from Ankers smart home brand or TP-Link's. Because getting the starter kit wouldn't help you so much.

Brighten up Your Home
Yes, we understand that if you consider shifting to smart lighting it will cost you a bit. But if that's what is holding you back then don't worry. Since you don't have to do it all in one go. You can start off with the Philips Hue starter kit for your Saudi Arabia home. Then understand the working and put in some time into considering how and where you would like to add some more of these smart lights. Slowing getting into it will help you gradually add convenience into your home setting. So, now it is made easy for you to brighten up your mood along with your house with the Philips Hue kit in Saudi Arabia. You can even check out how to set-up a smart home right here.