Often tired of the WiFi signal not reaching certain areas of your home and office? Tired of connecting and disconnecting each time? Not to worry, you can now use WiFi Range extenders to get uninterrupted full signal at every corner of your house and office. Often WiFi Routers, Extenders have lot of specifications and many of them not even understandable. We present you all the details about the WiFi Range extenders in simple terms. Also the best WiFi Extenders in Saudi Arabia are here along with their prices, best features and much more.
Quick List
WiFi Extender
Type
Band
802.11ac Support
MU-MIMO Support
Check Price
TPLINK RE650 AC2600 WiFi Range Extender
Wall Plugin
Dual
Yes
Yes
Price on Amazon.sa
Dlink AC1200 WiFi Range Extender
DAP 1610
Wall Plug
Dual
Yes
No
Price on Amazon.sa
Linksys Powerline Wireless Network Extender
PLWK400EU
Wall Plug
Single
Yes
Yes
Price on Amazon.sa
Xiaomi Pro WiFi Range Extender
Wall Pulgin
Single
Yes
Yes
Price on Amazon.sa
NET GEAR N300 Wi-Fi Range Extender EX2700
Wall Plug
Single
Yes
No
Price on Amazon.sa
Important Factors to Consider in a WiFi Extender
Similar to any other gadget or home appliance, here also you have to consider the important features while purchasing the best WiFi extender in Saudi Arabia. The important factors are explained in detail below. This will help you to figure out the right one for yourself as you will be able to understand the meaning of each factor or feature.
MU-MIMO Technology
MU-MIMO stands for Multi-User Multiple Input Multiple Output data streaming. It is one of the latest technologies available in WiFi extenders and WiFi routers. When it is connected to a wireless network, it offers you a better WiFi experience. This makes it its chief advantage. And for this, you have to make sure that both your WiFi extender and your WiFi router support this technology. MU-MIMO technology transfers large amounts of data to numerous users simultaneously. Hence proving that it is very useful in cases when you are watching movies, streaming high-quality videos on a wireless network.
It also improves the function of your wireless network due to the fact that it can connect multiple devices simultaneously. If your WiFi extender or WiFi router has multiple antennas, then it can stream data to multiple users simultaneously by making use of MU-MIMO technology.
802.11ac Support
A WiFi extender should be compatible with the WiFi standard of the existing router. This is crucial as it is about being compatible. IEEE 802.11ac is the most advanced WiFi standard is. Furthermore, if you compare the previous WiFi standards, the difference in speed of the latest standard is much better. Hence, you can have any of these WiFi routers with standards 802.11 b/a/g/n/ac/ad. So, you have to buy a WiFi Extender that supports that standard.
Also, a 802.11ac wireless network extender will support any router with lower standards. Further, if a situation like this occurs where in there is an extender of a higher standard and a router of a lower standard. Then it doesn't make a difference. An instant boost will be achieved by the signal speed.
Single/Dual Band
Every single router either has a single band or dual-band configuration and this depends upon the router model. Single-band supports only 2.4GHz transmission frequency whereas the dual-band supports 2.4 as well as 5GHz frequencies. Further, the 2.4GHz frequency provides longer range whereas the 5 GHz frequency provides faster speed. So, for a dual-band router, you need a dual-band extender. If both are not dual-band, then when it is extended, sadly the speed will be lower.
Remember, single-band is meant only for light loads. But, a dual-band extender is very beneficial for streaming videos. The 5GHz band offers you a smoother wireless experience because it is cleaner and less crowded. Note that if your router supports the MU-MIMO data streaming technology, then you need an extender that also supports the MU-MIMO data streaming technology. Since this will improve the performance when you send data to multiple clients simultaneously.
Model No: RE650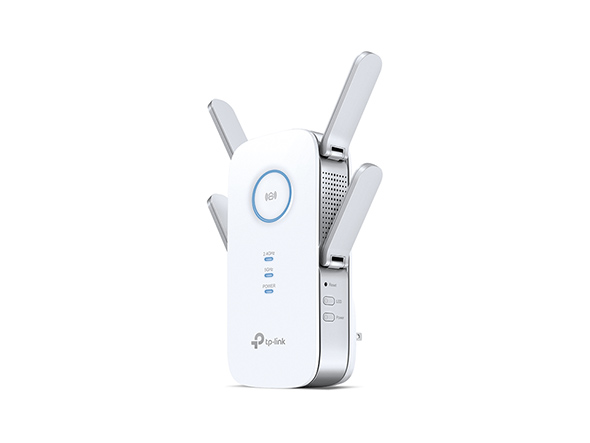 Dual Band Connectivity: The device supports two different bands of 2.4 GHz and 5 GHz frequencies. Even if you router has issues delivering dual bands , it ensures you to provide with double bands at any point of time.
Transmission Rate: 800 Mbps for 2.4 GHz and 1733 Mbps for 5 GHz ensuring the high end performance.
Supporting Protocols: IEEE802.11ac, IEEE 802.11n, IEEE 802.11g, IEEE 802.11b, IEEE 802.11a
Built in Access Point: You can simply connect it to the Ethernet cable through the Ethernet port and enjoy uninterrupted wired internet connection. You can connect the high speed Gigabit Ethernet port with RJ45 interface to your Smart TV, Games, Printer , etc.
Signal Indication: The device has the intelligent signal indication indicating good and bad signal through blue and red colors. This allows you to find the best location to install your range extender.
MU-MIMO: Serves 4 devices at a time using this technology hassle free implying it provides 4x times the tradition extender.
Easy Monitoring & Control: The intuitive TP-Link Tether App allows you to monitor the state of your Wifi range. You can sit anywhere and control and know about the Wifi Range of your home.
Design: Quad Antenna with dual core CPU compatible with any WiFi router. Rest, LED and power buttons for easy usage.
Price: Available at SAR 549.
Model No: DAP 1610
Dual Band: It operate sin 2 frequencies 2.4 GHz and 5 GHz ensuring you have high speed connection all the time and at every possible corner.
Transmission Rate: Offers up to 1200 Mbps which is 3.6 x faster than the normal offering.
LED Indication: Signal Strength is displayed through the LED light indicator to find the perfect place for your extender.
One Touch Setup: You can now set up the WiFi Extender just by pressing the WPS button and you are done. That's all it takes for the setup. You can also connect the wifi extender to the router through the QRS Mobile app for the set up.
Personal Hotspot: It can create a personal hotspot with an Ethernet cable giving you access to you own WiFi internet in places like Hotels.
Design: It has two external powerful antennas and Gigabit Ethernet Port for wired connection. But it doesn't support MU-MIMO facility meaning you can access multiple devices at a time. Consists of Flash Memory of 8MB and SDRAM of 64MB.
Price: Available for SAR 216.
Model No: PLWK400EU
Transmission Speed: Get up to 300 Mbps of wireless Internet and 200 Mbps of wired Internet. Single band operation with 2.4 GHz frequency
Ethernet Connectivity: Connect to Wired Internet with its fast Ethernet Port for one device.
Easy Connect: Just press one WPS Push button to pair to devices with its SecureConnect. You can connect up to 32 devices simultaneously.
Network Standards: HomePlug AV, IEEE 801.11b/g/n, 802.3, 802.3u
Set Up: You have to set up using the CD installation software with the help of a manual, more of a traditional and long process.
Contents of Package: Linksys Powerline HomePlug AV Adapter with Wi-Fi, PLW400; Linksys Powerline HomePlug AV Adapter, PLE400; CD with Setup Software and Resources; Quick Install Guide; 2 Ethernet Cables
Price: Its price is SAR 449 which is slightly overpriced for the features its offering.
Connection: Place the extender to the router and turn the power on. A yellow light starts flashing, then scan the QR Code to install the app and follow the instructions as guided. When the blue light flashes, pairing is completed.
Transmission Rate: Get the enhanced coverage with 300 Mbps speed using the two external Antennas. Fast Ethernet Port for the wired connection is also available. It provides only single band of 2.4 GHz frequency.
MI Home App: Find the best location for the strong WiFi through the MI Home app in your phone and place the wifi extender there for better results.
Multiple Devices: Supports upto 16 Devices connected simultaneously.
Networks Standards: IEEE 802.11b/g/n
Price: It is the budget option with the price of SAR 199
Model No: EX2700
Single Band Connectivity: It operates at a frequency of 2.4 GHz with the transmission speed of 300 Mbps. Equipped with external antennas for enhanced performance.
Fast Ethernet: It enables wired Internet connection also with the high speed Internet Port.
Ease of Setup: CD less set up makes it easier for us. You can connect with the WPS ( WiFi Protected Set Up) push and connect button.
Wireless Standards: IEEE® 802.11 b/g/n
Price: Priced at SAR 234.
WiFi Extender Types in Saudi Arabia
Let's have look at the two types of WiFi extenders available in Saudi Arabia which are tabletop also known as plug-in range extenders and desktop range extenders.
Plug-In Type
A plug-in WiFi range extender is smaller in size. So you can just insert it directly into a wall outlet. Most of the plug-in WiFi range extenders have 1 LAN port and internal antennas. Also, sadly, some of these plug-in extenders don't have USB connectivity which in turn makes them less versatile. So, see to it that you purchase a plug-in range extender equipped with USB connectivity. Plug-in range extenders are more affordable as compared to tabletop extenders. They also have a shorter range as compared to tabletop extenders.
Table Top (Desktop Range Extenders)
A tabletop extender looks like a typical router. Table top extenders can have multiple external antennas. That too, along with USB ports and LAN ports which allow you to connect your devices like your USB devices which include printers and storage devices, your TV and the gaming console. When you use tabletop range extenders, you benefit a wide signal coverage due to their multiple antennas.
Best Placement for WiFi Extender
Get a wireless extender if you don't receive a good WiFi signal in some areas in your home or apartment. This is because the best wifi extender in Saudi Arabia can offer a boost. So what the WiFi extender does it that it connects to your existing WiFi at a particular location which gets a good connection. Then it rebroadcasts its signal which in turn improves both, the speed and the quality of WiFi connections that are within its range. If you already have a great router, then a WiFi extender is the ideal device for you if you only want to improve the WiFi or boost the WiFi signal in a few extra rooms. Remember, you need to keep the WiFi extender much closer to the router.
Within its current boundaries, a prominent WiFi extender improves the speed and also lowers the latency of your network. Further, it also bounces the signal that is around obstacles such as reinforced walls, foundation slabs and elevator shafts. But if you want to know if your router alone can do the job without a WiFi extender. Then check out the following and try it.
If you have a good 802.11ac router, make sure that you keep it as high as possible and as close as you can to the centre of your home. Then, you can plug into the router devices such as computers, gaming consoles, streaming devices and more. Likewise, if you require more ports via the Ethernet, then you can use a network switch to reduce the number of devices that are in need of a wireless connection. If you are still facing issues and trouble inspite of trying out all these things, then you need to buy the best WiFi extender in Saudi Arabia.
WiFi Repeater Vs WiFi Extender Vs WiFi Booster
WiFi Repeater
A WiFi repeater also known as a wireless repeater is the 1st generation WiFi signal extender which re-broadcasts the WiFi signal that is received up to a limited local area. The WiFi signal's quality received by the wireless repeater is the same WiFi signal strength that is distributed. Furthermore, WiFi repeaters also increase the response time of the WiFi network or latency. If you need something to use for less than 5 wireless devices and also if you don't stream high-quality videos anytime then make use of a wireless repeater.
WiFi Extender
A WiFi extender also referred to as a wireless range extender is a piece of stand-alone equipment. The WiFi extender has to be placed between the wireless router and the area in which you need a better coverage. WiFi extenders rebroadcast the wireless signal which is already existing in your wireless router. Location is the most important thing or in other words, a big challenge with regards to a WiFi range extender. This is because if the WiFi extender is not kept or placed in the right location or in the position then it might not be able to receive enough WiFi signal from your router. This in turn won't allow it to rebroadcast, allow online gaming, stream as well as not allow you to watch a video.
WiFi Booster
A WiFi booster or a WiFi network extender offers reliable and consistent high-speed WiFi to each and every corner and floor of your home. A WiFi booster is different from a WiFi extender and a WiFi repeater as it rebroadcasts existing WiFi signals. Secondly, with the help of a wire, it also communicates directly with your WiFi router or gateway. WiFi boosters make use of a wire or cable the way cellular towers do. These wires or cables are used for communicating back to the router or source.
Keep in mind that if the WiFi device is kept far away from the WiFi access point or router then the speed will be very slow. Hence, farther the device, the slower will be its speed. Therefore, you can decrease the distance between your WiFi devices and the WiFi signal by using a WiFi booster. This, in turn, improves the overall performance by increasing the speed of each device.
FAQs on WiFi Extender
Can WiFi pass through walls and obstacles?
Yes of course. WiFi signals can pass through walls as well as other obstacles. But suppose the walls are thicker and contain reinforced concrete then WiFi won't be able to pass through. These walls tend to block some of the WiFi signals. Luckily, materials such as drywall, plywood, types of wood, and glass can be easily penetrated by wireless signals.


State the difference between WiFi Extender and WiFi Booster?
A WiFi extender needs to be placed between the location where you desire better wireless coverage and your wireless router. Further, WiFi extenders don't rebroadcast from the wireless channel used by your wireless router. They rebroadcast from a different wireless channel. On the other hand, a WiFi booster performs the task of rebroadcasting the existing WiFi signals.

Additionally, it communicates directly with your gateway or WiFi router by using a wire. The WiFi booster makes use of a wire or cable, just the way a cellular tower does. These wires and cables are a medium of communication to the router or source.


Can WiFi extenders improve the streaming speed?
WiFi extenders can definitely improve the streaming speed. Many a time WiFi can be filled with problems such as dead spots, drops in the signals or slow connections. These things lead to buffering or sluggy video streaming which is very frustrating. MoCA closes that gap and instantly boosts your home network's performance.


Where should a WiFi extender be plugged in?
Ideally, the WiFi extender should be placed half-way between your wireless router and your computer. But make sure that the WiFi extender is placed within the wireless range of the wireless router. Now, just in case you have to use a different location, then you will have to place the extender closer to the device however ensure it is still within the wireless range of the router.


Are WiFi Extenders capable of improving speed on the upper floor?
Yes, WiFi extenders are capable of improving speed on the upper floor. Suppose you have kept your router on the ground floor of your house. Then, to boost the signal, add a WiFi extender on the upper floor of your house. Similarly, this can also be done on the first or second floor of your house. By doing this you benefit a lot in structures that block a wireless signal and also locations with thick walls.

How to Set up a WiFi Extender?
Let's talk about the two configuration methods to set up a WiFi range extender. Among the two configuration methods, the first method is manual whereas the second one is automatic and effortless. Both methods have their own benefit. Let us proceed to know about both these methods.
Manual Method
You need to connect the WiFi extender either wired or wirelessly in the manual method with your computer. Next, by using the IP address that is mentioned in the WiFi extender's manual, make sure you visit the configuration website. Then, configure the WiFi extender with the existing wireless network. Examine the 2.4GHz and the 5GHz frequencies under normal situations. Then create a new Service Set Identifier (SSID) for both the frequencies. Lastly, you have to connect the SSID of the wireless clients with the SSID of the WiFi extender.
WPS Method
The method which is automatic and relatively effortless is WiFi Protected Setup (WPS). In this, the WiFi range extender, as well as the router, have a respective WPS button. Press the buttons physically on both these devices to pair the router and WiFi range extender. Your wireless signal coverage will be extended from your router when both these devices are successfully paired. Nevertheless, the WPS method has some limitations such as alterations and adjustments.
Stay Connected
Certainly, purchasing the best WiFi extender in Saudi Arabia helps you stay connected. You can send emails, browse for information, shop online, watch movies and lot more. Go for a WiFi extender with the latest technologies, more features and functionalities. By doing this you won't have to purchase a WiFi extender so soon. Avoid low-quality extenders. Follow the article and purchase the best WiFi extender in Saudi Arabia today. Also, if you are interested then consider purchasing the best laser printer in Saudi Arabia.