اقرأ هذا المقال باللغة العربية
Want a washing machine for your home, but don't know which one to pick? Front-load or Top Load? Automatic or Semi-Automatic? The best washing machine Saudi Arabia is here for you explained in detail. You have reached the right place. Everything and anything you need for your quest for Washing Machine is here for you.
Quick List
How to decide the Capacity of your Washing Machine?
The capacity that you require in your washing machine depends on two factors. The first is how big your wash loads are and the second is your family size. So, the quick chart below will tell you how big your washing machine should be depending on the size of the family.
Washing Machines Types available in Saudi Arabia
With numerous brands available and hundreds and thousands of unique products, choosing the right fit for your needs is surely a tough task. Hence I have divided the washing machine into different categories. So that you can buy the best one that fits your requirements and your budget.
Top Loading, Fully Automatic

These are narrower as compared to front load washing machines and as the name suggests you need to lift the lid and then load it from the top. The pros of top-load, fully-automatic washing machines are as follows. They are lighter as compared to front-loading washing machines in terms of weight. Also, they cost less in comparison to front-load washing machines. The best part is that there is no need to bend down to load and unload the washing machine. Additionally, you need to set the functions of the wash, to use a top-loading fully automatic washing machine. The washing machine will do the rest of job that is right from washing to drying.
Semi-Automatic, Twin Tub

Fully automatic washing machines make use of a lot of water. Knowing that Saudi Arabia already faces a scarcity of water, it is better to opt for the semi-automatic variant of the washing machine. When it comes to semi-automatic washing machines, after the wash cycle is over, you need to manually transfer the clothes to the spin tub. Therefore, semi-automatic washing machines consist of two tubs. However, the energy consumption features, as well as, mechanism is almost the same.

Front Loading, Fully Automatic

The best part and the greatest advantage of a front-load, fully automatic washing machine is that they have a door on the front side. So, you don't have to load the clothes from the top. Due to the tumble wash and long wash cycles, these offer a better wash quality. As compared to the other models, these washing machines use less energy, they are more water-efficient and contain more cycle settings. But However, they are heavier and expensive compared to top-load washing machines. Plus, once it is installed, you cannot move it around easily as it needs to be fixed in one place.
I believe you are all set to jump into the rank list of the best washing machines in Saudi Arabia and with no further delay, here it is.
Best Top Load Washing Machine
Model No: NWM1500TG20
Fully Automatic: Its a fully automatic top loaded washing machine with a capacity of 8 kg which is an idea size for a small-medium family. Automatic makes our lives easier with clothes once placed inside can be forgotten for the next one hour.
Multi-Functionality: with features like Quick wash, spin and separate options for delicate and rugged clothes, makes it convenient for clothes to be washed according to the choice.
Safety and Comfort: It has a child lock option to keep it safe from your kids and also operates a silent mode making absolutely pin drop silence.
Auto Imbalance Sensing: The high class motor surrounded by anti rust and anti wrinkle body has a feature to sense the auto imbalance and intimate it to you and it also has the memory to power off automatically.
Eco-Friendly: It operates at a very minimal water usage and is an A+ energy consumption device making it even more desirable.
Price: Available at a price of SAR 1448 which is quite cheaper price in the market.
Model No: WOE101W0SA
Medium sized Families: It caters to medium sized families as its drum capacity if 10Kgs and about 83L in volume.
Wash Programs: It offers upto 8 wash programs with a memory for power off, pause, reload and a child lock function. All you need in just one place.
Time Saving: It runs at a speed so efficient roughly saving 20% of your time as compared to the industry offerings which is a huge reliever for working moms out there.
Tub Cleaning: It offers a tub cleaning feature very specific to this brand which reduces the burden of cleaning all by yourselves.
24 Hr Delay: One other feature which stands out for it is the 24 hour delay where you can load clothes set timer and relax , it would do its job as and when instructed even without your monitoring. It offers a maximum of 24 hour delay, one can set timings according to the water supply, sleeping pattern or working pattern. Convenience redefined with this product.
Price: This is available at a price of SAR 1979 majorly reasonable for the size of offerings.
Best Front Load Washing Machine
Model No: WF0810WHN
Inverter Direct drive Motor: It offers a low vibration & low noise operation and is the most unique feature of the LG Washing Machines with a warranty of 10 years. You can definitely rely on the quality of motor.
6 Motion DD: This unique technology moves the drum in all directions possible ensuring a cleaner wash and all the dirt is removed just like we do with hands. It offers powerful and delicate cleaning modes according to your needs.
Smart Diagnosis: The highly intelligent diagnosis system just needs you to call the customer service and place the phone on the device. The Trouble shooting is done by the system with an immediate response of possible solutions. You can avoid the hindrance of work and delay in technician assistance. Stay independent of such issues.
Price: SAR 2895 is a reasonable price for a front load washing machine.
Model No: WD80K6410OW
Combination of Devices: This offers you a washing machine with a dryer making your life easy and reducing the burden to dry you clothes post washing which is a huge task after all.
Eco Bubble Technology: This washes your clothes very efficiently at a very low temperatures. It creates bubbles which can quickly penetrate any fabric removing dust and oil instantaneously leaving no mark.
Air Washing: It cleans the fabric with the passing of hot air removing all types of unpleasant odors and sanitizing from any left over bacteria.
Quick Wash: It offers washing in less than 59min in the normal mode with the speedy spray mechanism.
Gentle Fabric protect: With its soft curl design for the drum, it ensures delicate washing to prevent damage to the delicate fabric. Diamond shaped ridges and small water holes protect the fabric from getting stuck to the machine.
Smart Connect: Use your phone to know the error through its thorough trouble shooting mechanism to avoid unnecessary technician calls.
Price: Its slightly pricey with SAR 5635 but the bright side is the dryer offering.
Model No: GVF138THC3RZ1-19
Capacity & Speed: Runs at a speed of 1300rpm with 8kg drum capacity ideal for small-mid size families.
Eco Wash: It has the technology to use minimum water with low temperatures for washing using the minimum power. Its energy efficient and water saving machine.
WiFi Enabled: With its WiFi connection, connect it to the smart phone and control it remotely sitting anywhere in the house.
Fast Iron Function: This feature allows the clothes to wash gently adjusting spin cycle and the drum movement at the end giving least possible creases and folds to the fabric. Thus allowing you just a quick iron for the basics.
Price: SAR 1955 is a cheaper option in front loaded machines.
Special Mention
Model No: DWD-M300WA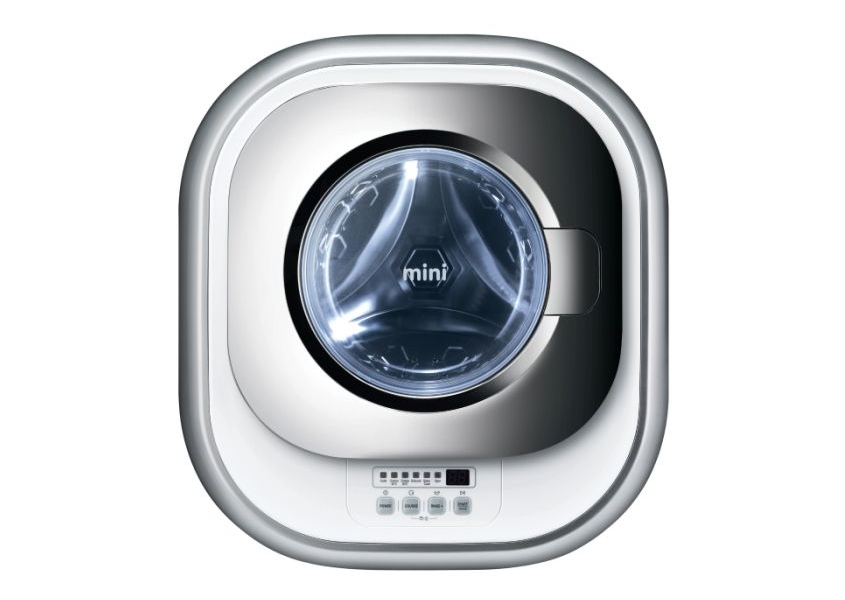 Place Anywhere: You can wall mount it anywhere in your kitchen, washroom or anywhere convenient . It saves space with its innovative design.
Design: It daunts a mini body with a cubic shape and fancy colors like pink, grey and many more matching your house interiors.
Daily Cleaning: If you are someone who is looking for washing clothes daily with a small quantity then this is the pick for you. Useful for daily cleaning, bachelors and anyone with small quantities to wash on a regular basis.
29 Min wash: Quick washing gives you ample time to do other jobs.
Baby care mode: It leaves no residue of detergent post washing with water to ensure there is a no irritation to the sensitive skin.
Price: It is offered at a price of SAR 1399.
Your clothes won't look faded anymore if you purchase the best washing machine in Saudi Arabia. Also, there won't be any pilling or clothes blotched up with stains. Nobody can deny the fact that wearing well-washed clean clothes offers a strong first impression. In addition, ensure your clothes are wrinkle-free. And to supplement your look, consider getting the best steam iron in Saudi Arabia.
Liquid Detergent or Washing Machine Powder?
It is important to know which detergent is meant for your machine and your fabrics. Nowadays, there are various detergents available. If you happen to use the wrong one continuously, then instead of solving the matters, it will worsen the situation. We have listed some important points for you which you can consider while using your washing machine. Hence, you will be able to understand the difference between liquid detergent and washing machine powder.
Which one, Liquid Detergent or Powder Detergent?
Does it make a difference if you use a liquid detergent or a powder detergent while washing your clothes? Yes, it definitely makes a remarkable difference. Keep in mind that it is best to use a soap bar or powder detergent while hand washing your clothes. However, while washing clothes in a fully automatic washing machine don't even think of using soap bars and powder detergents.
A fully automatic washing machine makes use of less water in comparison to washing your clothes with your hands. Now you might have seen that powder detergents do not dissolve totally into the water. Powder detergents stick to your clothes and form soapsuds in the form of white residue. This occurs mostly in coloured clothes and damages the appearance. Henceforth, keep all this in mind when you wash your clothes.
What makes Liquid Detergents Better than Washing Machine Powders?
A liquid detergent has many advantages over soap powder. Firstly, liquid detergents are better than washing machine powders because a liquid detergent gets dissolved faster in comparison to soap powder that is used in water. Also, liquid detergents don't form white residue sticking to your clothes. This, in turn, also implies that they don't form any soapsuds. Moreover, liquid detergents also aid in eliminating stains quickly. Also, if you use a liquid detergent, it helps you save a lot of soap and water. Which is not possible in the case of soap powders.
Next most important advantage of a liquid detergent is that it is a concentrated solution. This indicates that a very small amount is sufficient for an entire wash. Whereas soap powders need more quantity of water to dissolve entirely which is not in the case of liquid detergents. The best washing machine in Saudi Arabia will prefer a liquid detergent over soap powder since they contain special types of soap dispensers. Another good thing about liquid detergents is that they do not contain bleach which makes them the most suitable option for silk and woollen clothes.
Soap powders feature a built-in bleach formula. Bleach is a deadly substance not only because it damages delicate fabrics, but also because it affects the colour of clothes. Liquid detergents dissolve in hot and cold water too making it a better option. As discussed above, liquid detergents dissolve completely in water and they don't stick to the parts of the machine. Hence, they don't harm the machine parts and cleaning the washing machine is also easy.
When to Choose Soap Powder over Liquid Detergent?
You need to choose soap powder over liquid detergent when you need to wash a lot of white clothes. For instance, if you have children then you know how playful they are. Their naughtiness has no end. And they end up dirtying their white clothes and uniforms too. Taking off grease and mud from white clothes with the help of liquid detergents is next to impossible. This is because you will have to hand wash the clothes to remove all the mud, before these clothes are put in the washing machine. In situations like these, soap powders will save you.
Various Detergents for Washing Machines
When it comes to the various detergents that are available for your washing machine, you can select soapless detergents, "DIY" liquid detergents, and detergent pods which are additional options to liquid detergents and washing machine powders.
If the area you reside is supplied with hard water, then you should opt for "soapless detergents". This is because soapless detergents don't cause flaking which in turn protects your washing machine and all its expensive parts.
"DIY" liquid detergents contain a mixture of several liquid detergents together. In these types of detergents, note that fragrance is a major element.
Detergent pods contain softening ingredients and detergents in a polyvinyl film packet. You can place these detergent pods directly into the washing machine. This, in turn, will save a lot of soap and water. However, children shouldn't come into contact with these pods.
Front Load vs Top Load Washing Machine
When it comes to front-load and top-load washing machines, the reviews are endless and mixed. Firstly, look at the available space in your home, while deciding. If you live in a small area, then top load washing machines are a better option. This is because you don't have to swing it open like how you need to do for front-load washing machines.
But this doesn't end here. Every consumer wants to spend on something that is worth every penny. Opting for a top-load or front-load washing machine depends on several factors. It is a personal choice as you need to figure out which is more convenient for you. To make it easier for you here are some important factors which you should read.
Which One Washes your Clothes Faster?
Top load washing machines with agitator wash clothes faster in comparison to front-load washing machines. This is because they keep the clothes immersed in water constantly. Therefore, these are ideal for all those who have a hectic schedule and need their clothes to get washed quickly. Note that all top-load washing machines are not the same and the reason behind this is that some have an agitator and some don't have it.
Another thing that you should know is top-load washing machines that have agitators are can wash quickly. However, those that don't have an agitator are better in cleaning and use less water. This works even when there are more clothes to wash at a time. These top-load washing machines are referred to as high-efficiency washing machines and cost more.
Is Top-load or Front-load Easier to Use?
A top-load washing machine proves to be more convenient than a front-load washing machine since you don't have to bend to load and unload the clothes. Aged people and those facing joint problems should therefore opt for a top-load washing machine. Further, a top-loading washing machine helps you add clothes right after starting the cycle and even during mid-cycle. They also spread the fabric softener evenly in comparison to front-load washing machines. They can also collect lint.
Front-Load Price vs Top-Load Price
First and foremost, front-load washing machines cost more than top-load washing machines because they are more water and energy-efficient. And they also provide high-quality cleaning. The average front-load washing machines use 40% lesser water compared to the average top-load washing machines, as per TXU energy. When it comes to a front loader, its upfront cost will always be more, but you will save your hard-earned money in the long run if you purchase a front-load machine. This in turn evens out your total expense.
Top-load or front-load Cleans Better?
Although top-load machines are convenient to use and better for your back. They are comparatively rougher on clothes. That too especially if the washing machine is overloaded. Additionally, top-load washing machines experience difficulty while washing larger items since these won't immerse fully in the water. This occurs especially in the case of comforters and pillows. Whereas, front loaders do just the opposite. They are not only gentle with your clothes but also clean better.
Installation Flexibility
Worried about the less space in your house? Don't know which one will be better for a small house? Well, if that is the case then you should purchase a front-loading machine. This is because you can stack it with a dryer, thus making it occupy less space in comparison with a top-loading machine. People prefer vertical space for their laundry equipment even if they stay in bigger areas. As they can save the rest of the space for other household items.
The Problem with Mold (Smell)
One of the biggest problems that you can experience with a front-load washing machine is the formation and build-up of mold around the rubber gasket of the washing machine door. This occurs gradually with time. Front-load machines, therefore, need much more maintenance compared to top-load machines. On the other hand, top-load washing machines don't face the mold problem because they are dependent upon gravity to pull down water. The water doesn't get trapped in any seals due to gravity.
Spin Cycle (Comparison)
During the final spin cycle, front-load machines spin faster (about 33% times) compared to the top-load machines. This is great for people with a regular hectic schedule. This shows that before you transfer the clothes to the dryer, it will remove more water from the clothes. This will result in your clothes getting dried faster in the dryer. Moreover, it will also be easier to transfer between the machine and the dryer. Note that the only drawback of front-load washing machines is that a lot of vibration is caused due to the spin cycle. Thus, leading to very annoying noise.
How to Take Care of Your Washing Machine Appropriately?
Follow & Understand Washing Machine Settings
Majority of washing machines in Saudi Arabia have three types of wash settings: normal, medium and strong. For standard loads, always select the normal wash option. When you want to wash any delicate clothes or baby clothes, opt for a normal or medium setting. And lastly, select the strong setting for washing extremely greasy and dirty loads. Ensure you select the right setting depending upon the type of clothes.
Rust Removal
Rust develops reddish-orange spots on your clothes after they are washed in the washing machine. Detect these rust spots and remove them by adding two cups of lemon juice. On hot water, run the washing machine for 1 wash cycle. If doing this doesn't work then change the tub. You should know that rust forms on water pipes sometimes. You will have to replace the pipes if this is the case because the water can get those particles of rust from that pipe.
Keep your Washing Machine Interior's Clean
Sadly, your washing machine is unable to clean itself on its own. Therefore, either you or your family members need to clean and maintain it. Always detach the removable lint filter. Also, remove the lint from your clothes and then attach it back. Lint clogs the water pipes. This results in clothes not getting washing the correct way and therefore lint is very dangerous. Just in case your clothes look old, you need to check your washing machine's filter. For removal of grease, detergent build-up, and dirt from the dispenser, tub, and water pipes, run the washing machine with hot water. And also two cups of lime juice and white vinegar. Ensure you do this once in three months to clean the outlet pipe and interior of your washing machine from grease. Besides these, it will also protect your washing machine from the residue, hard water, and other harmful build-ups.
Day to Day Maintenance
Always keep the door of the machine open when the washing of clothes is completed. By doing this, you will allow the moisture to dry out. Additionally, you won't have to deal with any musty smell inside the tub. With a damp cloth, clean the walls of the washing machine, if a lot of dirty and greasy load was washed. Plus, you also have to clean the tub with the help of a damp cloth for removal of slimy buildup if any.
Avoid Washing Heavy Load
Heavy loads tend to cause internal damage to your washing machine as they exert pressure on the motor of the washing machine. Hence, never wash rubber mats and heavy carpets in your washing machine.
FAQs on Washing Machine
How should an automatic washing machine be operated?
It's easy to use an automatic washing machine. Simply pull out the dispenser drawer of the washing machine. Then, add the detergent in an adequate amount. How much detergent to add depends upon your clothes/wash load. Next, turn on the washer. Then you proceed by selecting the cycle in accordance with your clothes. Go ahead by selecting the setting and finally, start the cycle.


Which is better? Front loading or top loading?
As discussed above, front loading and top loading have their pros as well as cons. Firstly, front load washing machines are gentler with clothes, unlike top loaders. Front-loaders also wash large items like comforters and pillows with ease. Further, front loaders are more water-efficient and energy-efficient. Additionally, they offer better cleaning. Whereas, when it comes to convenience, top-loaders win. This is because when you use a top-load washing machine, you don't need to bend over to load and unload the clothes. Therefore, top-loaders are a suitable option for those facing joint problems and also aged people.


Explain the term "spin" in washing machines?
In washing machines, the speed at which the tub spins during the final cycle is referred to as the spin speed. Also, the washing machine empties the water during this process. In order to twist and squeeze the water out of the clothes, the tub spins around extremely fast for drying the clothes. Additionally, it also reduces the waiting time for the clothes to dry.


How much does a washing machine cost in Saudi Arabia?
First and foremost, the washing machine price depends upon the brand that you opt for. Secondly, it depends upon the washing machine capacity. Ensure you purchase a washing machine with the ideal capacity. This depends upon how often you wash your clothes and mainly your family size.


How to keep a washing machine clean?
Buying the best washing machine in Saudi Arabia is not sufficient. Keep in mind that you need to maintain it the right way. In order to know how to clean the washing machine, here are 9 tips to keep the washing machine from damaging clothes, these will help your washing machine to serve you for long years by functioning well. These tips will also save your clothes from getting damaged.

Ensures Clean Clothes Always!
Keep in mind that you need to opt for a washing machine that fits your requirements as well as budget. If you are confused between 2-3 brands or are not sure which one will be perfect for you, then read through this entire article once more. Go through the features, functionalities and mainly the capacity of each washing machine product.