The best vacuum cleaner in Saudi Arabia is here to make your life easier! With COVID-19 the way we deal with the household chores has completely changed especially doing the dishes and cleaning the house. With helpers not available at the house, we had to do it all on your own. In times like this that we realize the need for more sophisticated appliances for our ease. One such thing is vacuum cleaner which all of us thought should be there at home for help. What about vacuum cleaner do we need to know, how should we select a vacuum cleaner and which ones are the best in Saudi Arabia are the questions that must be running in you mind. We made it clear all in a single place here for you.
Quick List
Jump to Detailed Product Reviews
Types of Vacuum Cleaners
Types of vacuum cleaners vary depending on the use of them. As different areas have different cleaning needs. And each of these types has its own pros and cons. Which has to be considered before getting the best vacuum cleaner in Saudi Arabia. Therefore, here is your guide to make the right decision, about which one suits your needs better. Hence make sure to read why you should or shouldn't prefer buying them.
Canister Vacuum Cleaner:
A canister type vacuum cleaner is prefered in Saudi Arabia. These are convenient enough to use while cleaning floors, sofa upholstery, ceiling fans and staircases. Although they can be a bit noisy, yet you can get the job is done. Along with the various attachments to help you get any area clean in no time. Furthermore, this vacuum is easy to move around with the wheels. Actually without these also you can make do since this type of vacuum cleaner is not too heavy to carry.
You should get one if:
1) You want a long-lasting machine
Canister vacuum cleaners might be pricy but they serve you for several years to come. You will only have to pay for fresh bags and filters in the run, so if you are willing to pay a little extra, then get yourself this classic as it will last a decade or more and will keep your floors very clean. Although it is a big investment, it can pay off in the long run.
2) You want great performance on all surfaces
High-end canister vacuum cleaners have powerful motors, tightly sealed ductwork and adjustable cleaning heads which makes them perform well and in a great manner on any surface, be it delicate floors or high-pile rugs. These vacuum cleaners can engulf all the fine dust out of any rug including high pile rugs making them look, feel and smell better for longer.
3) Indoor Air Quality is a priority
If indoor air quality is your priority then one of the best canister vacuum cleaners in Saudi Arabia is what you need to purchase for your home as these perform an excellent job of maintaining great indoor air quality. The canister vacuums' bags are tightly sealed airways which excel in removing allergens and irritants from your home and you also have an option of adding a HEPA filter to the canister vacuum cleaner if you wish to.
You should not consider this if:
As mentioned, a canister vacuum cleaner can last for a decade or two but you will have to purchase at least a few fresh bags and filters every year. Also, you must be ready to carry the canister vacuum cleaner to the repair shop or service centre at least once a decade or maybe twice if required for maintenance and if you need to repair it. Therefore, if you don't want future expenses and lock-ins and the trouble of carrying around the appliance for repair/maintenance then don't opt for this.
1) You don't want future costs and lock-ins
2) You have hairy pets
If you have hairy pets in your home then don't opt for the canister vacuum cleaner as the fur fills bags quickly. Hence, you can get a bagless vacuum without worrying about bags or bags getting out.
Stick Vacuum Cleaner:
A plus point of getting a stick vacuum cleaner is that it is versatile. As you can easily move it around to clean any area. Besides that, it is flexible to use while cleaning areas like beneath furniture, staircases and the interiors of cars. And since it is lightweight you can even use it to clean curtains and the top of a cupboard. Moreover cleaning is made easy as you don't have to bend while cleaning. So, if you have a back problem or a senior citizen this device is for you.
You should get one if:
1) You live in a small apartment
Since there is no cord this makes it easy and comfortable to clean. As there is nothing that can be caught with the cord. Thus, cleaning any small cramped up area is like a child play. Additionally, as they have wheels and a flexible cleaning head it is easy to move around in any direction, without having to pause to readjust the direction. Although a cordless vacuum clean is not advisable for a bigger home because they do not have a really long run time in a single go.
2) Don't want interruptions with cords
As mentioned above, it offers no excuses or hurdles as there's no cord that will come in between, unlike corded vacuum cleaners. All you need is a few seconds to get going. Furthermore, you don't go underestimating the power of this device just because it's small. As it can satisfy your cleaning requirement in no time.
You should not consider this if:
1) You want a cost effective device
After all, with all the convenience comes a cost right? The convenience of portability and no cord that is. Which is why these cordless vacuum cleaners are slightly on the expensive side. And if you are a person who would really want the earth or every coin you pay then we think this might be a slight of a letdown.
Robotic Vacuum Cleaner:
A robotic vacuum cleaner is one of the most sophisticated forms of vacuum cleaner in Saudi Arabia. They are easy to handle and not to mention small in size. Moreover, you can get the cleaning down without you being present. For which you have a timer option which can be set and ensure that your device will begin the cleaning process at that time. Although make sure that it is charged so you won't have any problem of stopping mid-process. Moreover, you don't have to worry as it will clean under your furniture as well as cover large surfaces without leaving behind any spec. The only drawback is that this device will not be able to clean stairs or large piles of dirt.
You should get one:
1) Home with Pets
Many of the people in Saudi Arabia don't have time due to their busy schedule to cater to their pets especially the shedding which the pets create. Hence, if you belong to this group of people or just someone with pets at home then you need to grab the best robotic vacuum cleaner in Saudi Arabia as, without any delay or trouble, these robotic vacuum cleaners will pick up the pet hair almost as fast as it falls. Moreover, it requires very little effort and oversight on your part. Further, robotic vacuum cleaners are excellent at collecting junk and the higher-end models also feature targetted area or room-specific cleaning and even a self-emptying functionality.
2) Lazy to use Regular Vacuum Cleaner
If you simply don't want to use a regular vacuum cleaner be it the fact that you are lazy or don't want to put unnecessary effort and get tired cleaning your house then you need the best robotic vacuum cleaner. A robotic vacuum cleaner will run for an hour or two every single day to keep your home much cleaner.
You should not consider this if:
1) Home has many robot blocks
The robotic vacuum cleaner is not recommended if your home in Saudi Arabia has many robot blocks like dog turds, stray charging cables, tall thresholds, black rugs and any obstacles or general mess, as hese things will not let a robotic vacuum cleaner do its job properly.
2) You want control
If you or someone you know insists on watching the robot work, then you or that person are do not need to get one because if you purchase a robotic vacuum cleaner most often moves in ways that don't make sense to human observers making you feel that it is not doing its job properly or that something is wrong with it.
Handheld Vacuum Cleaner:
This is the best option if you want to get cleaning in all those tough bits and corners of your home. Additionally, it is completely portable and as the name suggests handheld. This is because it is lightweight. Also since it is a smaller version of a vacuum cleaner in Saudi Arabia it is not heavy on your pocket in terms of cost. Furthermore, this is a good option if you would also like to clean your car interiors and other difficult to clean places. The only thing you need to consider is that this handheld type of vacuum cleaner is not as effective as the canister type.
Which Vacuum Cleaner is Best for You?
Vacuum Type
Pros
Cons
Best For
Robotic
Cleans in your absence
Can Mop
Can't access multiple floors
Can get stuck or fall from edges
Singles
Handheld
Cordless,
Portable
Lower power output
Short battery life
Car or Small Home
Stick
Flexible reach
No need to bend while cleaning
Heavier for your hands
Harder to move around if wired
Small/Mid Family
Canister
More Power
Wire can tangles
Not Very Portable
Large Family
Hotels
With that being said these are the varieties of types and a few of the best vacuum cleaners in Saudi Arabia. Here are the specifications, cost & so to help you choose the best for you and your home.
Best Stick Vacuum Cleaners in Saudi Arabia
Model No: SVA420B-B5
2 in 1 Cleaner: It is both handhelds as well as the floor vacuum. You can adjust the device according to your need. The stick vacuum can be used where the difficult corners cannot be reached and cleaned.
Design: It is made of lithium-Ion battery producing power of 14.4 v doing all the powerful suction required. The charge duration is for 6 hours and provides 22 min of runtime with an airflow rate of 588 ml/min for the main unit and 660 ml/min for the handheld unit. Furthermore, the dust bowl holds up to 550 ml capacity.
Powerpack Vacuuming: It helps in removing the stubborn dust/ debris in any corner of the house. Since it is intelligently designed to remove touch dust stuck in corners with high suction power as and when required. The slim nozzle enables this function possible. The crevice tool provided in the accessories allows you to clean sofa edges, car seat creases etc. Moreover, the brush tool allows you to clean delicate surfaces.
Price: This is available at a price of SAR 695 which is pure value for money.
Design: This again is another 2 in 1 cleaner which can easily change to a handheld vacuum. It has a tank capacity of 540 ml with a suction power of 115 AW. The total run time of 44 min which is larger than the Black& Decker offering and charge times is 5 hours. Furthermore, it has two power modes one is MAX mode for high power works for 7 minutes and the powerful mode for longer cleaning requirements. It is bagless and cordless weighing just 2.6 kgs.
No Touch Bin Emptying: You don't have to touch the bin to empty the dust, just push a button and it automatically releases the dust to the holding bowl.
2 Tier Radial Cyclones: 15 cyclones placed in 2 tiers inside the cleaner provide the strong centrifugal force to capture minute dust particles with ease.
Price: It is placed slightly at a higher-end costing about SAR 2975 suitable for high-end sophisticated homes.
Model No: BH53121
Design Features: It has the removable Lithium-Ion battery system where you can extend the runtime to two times more by keeping two batteries for a go. It has 3 times better run time and charges up rapidly. The dirt cup is XL size of 0.62 L.
Wind Tunnel Technology: This enables the cleaner to streamline the suction and capture the dust in the most efficient manner as minute as pet hair. It is very useful with homes with pets because of its odour minimizing filter and also other pet tools.
Swivel Steering: It lets you move around very easily especially below beds, sofas which are not easy to move around usually with its swivel steering.
Dashboard: Brush roll indication, power levels and other maintenance adjustments could be done with the dashboard available on the cleaner. Very user friendly and easy to use.
Warranty: You can get 3 years of motor and parts warranty with Hoover.
Price: It is priced at SAR 792 which is a decent charge for the offerings.
Best Handheld Vacuum Cleaners in Saudi Arabia
Model No: DVJ215J-B5
Design: It has the Lithium-Ion Battery of power 10.8 Wh suitable for cleaning in any area whether hard or smooth surface, comes with a jack plug charger. It is designed to be bagless hence the weight overall reduces and makes it easy to carry. The overall charge time is low as 4 hours with Smart Charge Technology.
Triple Action Filtration: It provides extensive cleaning with up to 10 times more reach than the traditional handheld vacuum.
Intelligent Boost Mode: This is a very unique feature of Black + Decker where it intelligently gauges to increase the suction power when the dirt level of complexity is higher.
Cyclonic Action: This allows the dust and debris to move away from filter thus improving the suction power each time.
Price: It is the cheap and best option available in the market pricing SAR 247.
Model No: 2024E
2 in 1 Cleaner: This is a 2 in 1 cleaner where it acts as a stick cleaner and also handheld cleaner based on the adjustments. But the reason why I have placed this in the handheld segment is because of the convenience it provides in the handheld version compared to its stick version.
Filters: All the filters are washable and use the cyclonic filtration technology which is useful for removing the toughest messes and debris stuck in the corners and also enhance the suction power giving the clear pathway.
Featherweight: It is very easy to carry because of its lightweight design making it the best pick if you are looking for something on low weights.
Design: The dirt bowl has the capacity of 05L which is quite huge compared to other options we discussed earlier and has the suction power of 100 W.
Price: Priced at SAR 436 considered okay since its a 2 in 1 vacuum.
Model No: FC6150/61
2 Stage Filtration: It has the two stages of filtration to ensure the highest possible efficiency inc leaning. In the first stage, it captures maximum dust and the second stage it ensures that nothing is left over.
Battery: The 3.6 V NiMh removable batteries provide with the suction power needed for tough cleaning it offers. It provides 10 minutes of runtime and a charge time of 16-18 hours. So you should ensure there are 2-3 batteries readily charged for you to use at a stretch else it wouldn't be helpful for you. In this matter, it puts the position of this vacuum way behind the rest.
Ergonomic Design: The handle and the entire body of the vacuum is designed to be conveniently handled by the users. It is also lightweight weighing only 1 Kg and the tank capacity is 0.5L.
Price: This is priced at SAR 198 which is cheap but you should also consider the kind of runtime it is providing.
Best Canister Vacuum Cleaners in Saudi Arabia
Model No: VM2825
HEPA Filtration: The 2000 W powered vacuum uses the 6 stage filtration system with the HEPA filters cleaning every ounce of dust, pollen, allergens. It provides a cyclonic action to produce maximum suction giving best results.
One-touch Cord Rewind: You can simply rewind the cord by a single touch, very easy and hassle-free working.
Hard Surfaces: Its best suited and performs highly on a hard surface with its high powered motor working efficiently. It is supported by the translucent bin holding the debris of capacity of 1.8L and could be emptied by a single touch.
Price: It costs around SAR 907.
Model No: NVC211T
360 Degree Rotation: With its 360-degree rotatable wheels it's easier to move it anywhere you want without difficulty.
Dust Level Indication: You will be notified when the container is filled with the debris so that you could empty it down. Usually, the tank capacity is 17 Litres which is huge but you need to also think of the weight burden it will add upon you given already the make looks bulky enough.
Suction: It's done through the metallic telescopic tube and the power is at 1400W. It doesn't produce much noise and usually operates silently.
Price: It cost you SAR 137 which is quite cheap for the capacity it provides but the design isn't great aesthetics wise and is very bulky for carrying. So, this model is suggested for places where there is a lot of capacity requirement otherwise if you are looking for an aesthetic looking one then Black & Decker is suggestible.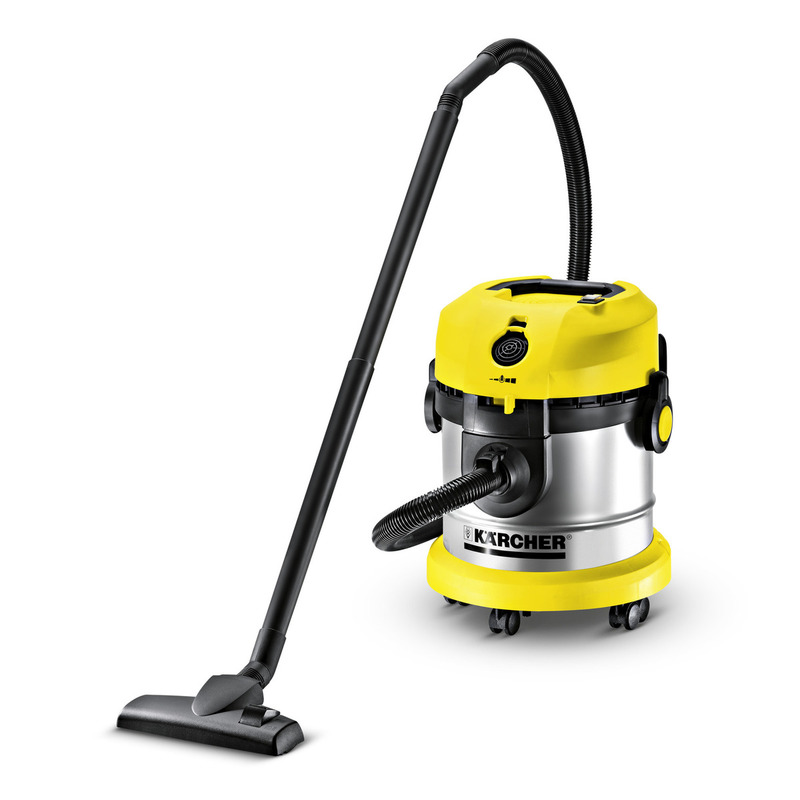 Tech Specifications: Power of 1600 W with a tank capacity of 20 L which is the by far the largest. Airflow rate of 74 l/ sec and weighs about 7 kg.
Strong Make: It is made of steel, very sturdy and durable along with the colourful coverings. Overall its decent looking vacuum cleaner.
Alternative Blower: The places where vacuuming has no significance, those can be simply blown for the dust through the blower function and later sweep away the dust fallen on the floor.
Reusable filter: The textile filter could be reused multiple times by simply removing it and washing it and keeping it back. It reduces the burden of purchasing replaceable filters each time of use.
Price: It is priced at SAR 661
Best Robotic Vacuum Cleaners in Saudi Arabia
Model No: T2108211
Intelligent Boost IQ Technology: This enables intelligent cleaning like even on carpets. It can automatically move from floor to carpets and vice versa and clean without your assistance. It is also equipped with a drop sensing mechanism where it sens places like stairs and ensures the stopping to avoid falling off stairs.
Slim Design: It comes in a slim and sleek model with 2.85" height and fits into any corner without a struggle.
Automatic Return: It senses low charging and returns to the charge station automatically, so you don't have to worry about charging it all the time.
Triple Filtration System: It has the double-layered three-stage filtration system with a suction power as high as 1300 Pa.
Design: The total run time is about 100 min which is quite large as per industry standards. One single charge can clean your entire house in a single go. Multiple Cleaning modes and preset vacuuming time make your usage very friendly and easy. The dust container is of 0.6 L holding capacity sufficient for your needs.
Price: This comes at a price of SAR 1449. Usually, robotic vacuum cleaners are pricey and this vacuum cleaner is the budget option in this segment.
Model No: R696040
Dirt Detect Sensors: These take care of areas with extra care and suction power where there is a large amount of debris accumulated and needs a tough cleaning.
Automatic Return: This is also equipped to return to the charge station automatically in low charge times.
Edge Cleaning Brush: The advanced technology of this vacuum enables it to clean on all types of surface with a 3 stage cleaning process of lifting, loosing and suction of dirt from every corner of the house. it is specially designed of the 27-degree angle for reaching deep corners.
iRobot Home App: It is WiFi equipped for connecting to the iRobot Home App with the best navigation software to detect the furniture and obstacles and clean efficiently where even the cloth cannot clean efficiently. It has a runtime of 60 minutes sufficient for your entire house.
Price: It is costly with price SAR 3150 which is the high end in the category. The extra charges are mainly for the WiFi connectivity and smart home features which again is a choice I'll let you decide if it's required for you or not.
2 in 1 Functionality: It does both sweeping and mopping one after the other immediately. With the water tank equipped it parallelly mops the floor once its sweep.
Smart Sensors: It is equipped with 13 different sensors for mapping, routing, anti-fall, jam resistance, self-charging etc.
High Battery Power: 5200 mAh battery provides 150 minutes working suitable for big houses, hard floors and carpets etc. It's suggestible not to use on the dark/ long pile carpets.
Tech Specs: It has Strong suction of 2000 Pa and has a multi-mode system enables bets cleaning for you.
Price: It costs SAR 2,990.
Vacuum Cleaner FAQs
Can vacuum cleaners clean carpets?
You can clean your carpet with the help of the vacuum cleaner in Saudi Arabia. But if you plan to do so a better option would be a steam vacuum cleaner.
Does a vacuum cleaners do mopping?
Using a vacuum cleaner is much more effecient in cleaning out almost every spec of dirt then it is with a damp mop. As when dry this dust functions as soil particles and suction is easier. Thus reducing the effort put in while mopping. So if you mop the floor soon after the bucket won't give a dirty water residue.
What is a cyclone vacuum cleaner?
These type of vacuum cleaner replicate the way a tornado functions that is the circular movement. With this fast spinning movement the dust gets sucked out and collects into a bin. The movement is created with the help of a fan.
Can vacuum cleaner help sooth allergies?
Yes, a vacuum cleaner can help with allergies as it can remove the source of allergies (dust mites, pollen) out of your remove by simply sucking it out. However, doing the same while sweeping only worsen it by stirring the particles in the air.
What is a bag-less vacuum cleaner?
In a bag-less vacuum cleaner in the cleaning process the dust and bits and pieces of debris do not get collected in a bag but in a dirt cup or chamber. Which you have to empty out once in a while. These vacuum cleaners do not use any bags as is replaced with a filter and a cup.
What is a bar beater?
The rotating brush situated at the intake area where the air and dust gets sucked is called a bar beater. This brush helps in cleaning as it rotates and hurls out any and every dust particles. Which helps in the deep cleaning process.
What are the amps of a vacuum cleaner?
This varies with the type of vacuum cleaner, as a upright cleaners are 7 to 12 amps whereas canister models are usually 12 amps. However, the highest amps household outlets that can be used is 12 amps.
Have a Cleaner Environment
With that, you have now gained the knowledge about all there is to know about the best vacuum cleaner in Saudi Arabia. So, now you don't have to wake up each day and put in the effort to sweeping clean your home. Do it with the best vacuum cleaner in Saudi Arabia. Furthermore, put a rest to your allergies from the dust around. And you can do that all in a limited price range. So, what are you waiting for place your order now! While your at it you can even check out what innovations have made the vacuum cleaners better.