Buying a refrigerator can be a tough task. What brand to choose, what capacity to chose, whether it should be a single door or two-door, etc. We made this easy for you. Here are the best refrigerators in Saudi Arabia you need to know. The specifications, prices, colours, special features all compiled and ranked for you to pick the right one.
Quick List
Model
Capacity
Best for
Check Price
Panasonic Side by Side Refrigerator
NR-BS60MSSA
590 L
Medium-Large Families
Price on Amazon.sa
Bosch Fridge Bottom Freezer XL
KGN86AI40B
24.09 Cu ft
Medium-Large Families
Price on Amazon.sa
Samsung Refrigerator 20.7 Cu Ft
RT58K7050SLB
20.7 Cu ft
Medium-Small Families
Price on Amazon.sa
Toshiba Freezer on Top Refrigerator
GR-A395ABEZ(DS)
10.98 Cu ft
Small Families
Price on Amazon.sa
Dansat Mini Bar Refrigerator
DFS140HL
2.9 Cu ft
Bachelors
Price on Amazon.sa
An overview of Single Door, Double Door and French Door Refrigerator
Single door refrigerator
As the name suggests, these refrigerators have just one door.
Their capacity ranges from 150 to 250 litres.
Economical among all the options available out there, and apart from fridge space, even offer modest freezer space.
Generally, direct cool in nature, however, many companies are introducing a digital auto defrost option on their models nowadays.
A good option for a small family of two or three people.
Double door refrigerator
It features two doors, one on top of the other. Generally, the upper compartment is the freezer and the lower one is for regular use providing you with more freezer space to use.
The capacity of such refrigerators vary from 250 to 500 litres and are an ideal option for a family of four to five people
These are built to be more energy efficient
They are always frost-free in nature and are usually shipped with toughened glass shelves too.
French Door refrigerator
French Door Refrigerator is also known as side by side refrigerator, the most expensive models yet best in Saudi Arabia.
With a capacity range from 550 to 850 litres, they offer huge storage space with several different sections and hence are the best option for large families.
Equipped with the latest technologies, they usually come with unique features like water and ice dispensers in the front.
Additionally, they are frost-free in nature and comes with toughened glass shelves.
Difference between Direct Cool Refrigerator and Frost Free Refrigerator
Direct Cool Refrigerator
In this type of refrigerator, the air in circulation is cooled inside the fridge compartments by means of the natural convection process. As the process is natural, there is uneven temperature distribution due to which there is the formation of ice from the water vapour inside the refrigerator. There is no way to control the temperature distribution. The ice or frost can be noticed in and around the freezer box. This is exactly why it needs manual defrosting for which is a knob or button is provided. Due to this uneven temperature distribution, the direct cool refrigerator is limited to single door model only. Food remains moderately fresh and a few advantages of this technology are the fact that these are economical and consume less electricity. Hence, energy-saving is higher. The direct cool refrigerator is limited to single door model only, making it the best fridge for 2-3 members in a family in UAE.
Frost Free Refrigerator
In this type of refrigerator, the basic operation is the same but inside of natural convection process, the air is circulated evenly with electric fans. Due to even distribution of cool air, there is no scope for the formation of ice or frost, and thereby, it lives up to its name. It has a timer and a thermostat which cuts off the power supply when the desired temperature is reached within the calculated period of time. Besides, in some model, there is a heating system working continuously to melt the ice formation automatically. A few advantages of this technology include the even distribution which helps in better preservation of food items as compared to Direct Cool Refrigerators. Hence this kind of refrigerator is best for larger families in Saudi Arabia. Though with higher capacity and the usage of electric fans, electricity consumption is higher in these kinds of refrigerators.
Advantages of Inverter Compressor
Following are the advantages of an inverter compressor:
Energy efficiency. As opposed to a regular compressor, the inverter compressor runs more consistently and at controlled speeds, which means it uses significantly less energy.
Durability. Compressors experience the most wear and tear during the start-up period. Inverter compressors start up slowly, thereby reducing a chance of failure. 
Freshness. Because the inverter compressor doesn't stop completely, only slows down, the temperature in the refrigerator is more constant, which means better storage conditions for your food. 
Quiet operation. Due to its constant operation, an inverter compressor also produces less noise. 
Model No: NR-BS60MSSA
Side By Side Doors: Unlike the usual fridge doors top and bottom, this one daunts a side by side design giving a new and unique look to your kitchen and dining area.
Adjustable shelve range: You can adjust the shelves up and down according to your way of organizing giving you the personalized touch.
LCD Touch Display: You can now adjust the temperatures using touch panel with the display in LCD
Deodorizer: It keeps the food away from stale smell and food is fresh always removing all unwanted odor.
Large Families: You can use this in a large family set up because of its huge capacity of 527L.
Price: SAR 2530 for this beautiful piece with a silver finish.
Model No: KGN86AI40B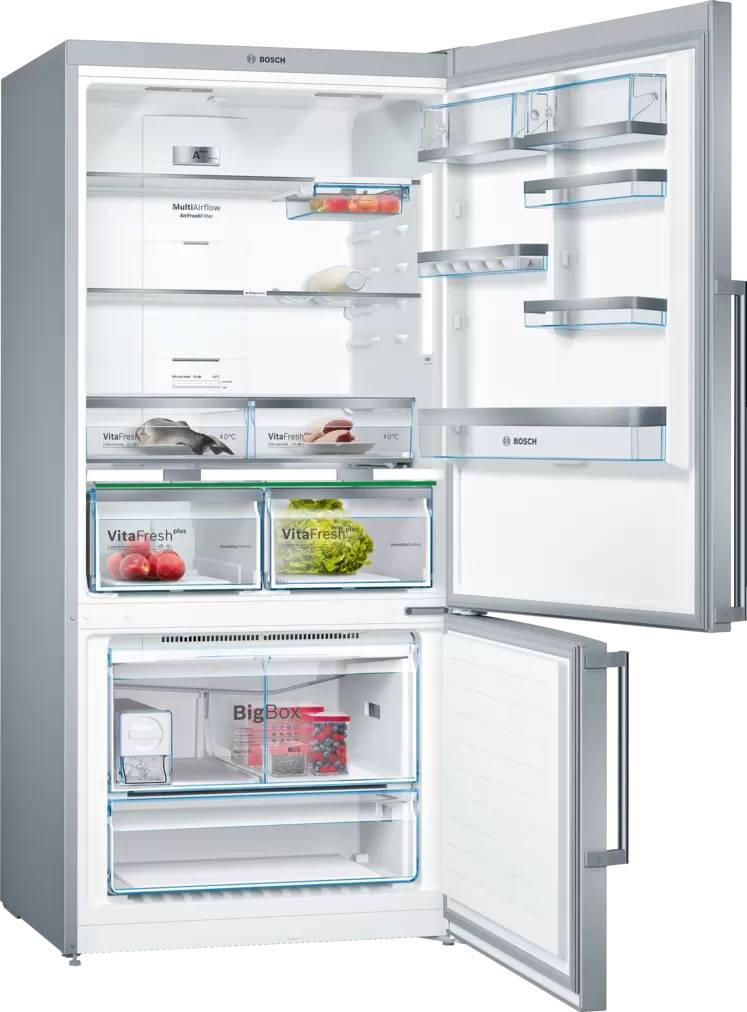 Separate Cooling Circuits: The upper and lower body has separate cooling circuits to give you freedom to divide foods according to your requirement of temperature. There are two sections here chilling and freezing.
Longer shelf life: With its VitalFresh plus mechanism it keeps the food fresh for almost double the time offered usually. The air freshening filter keeps all the bad odor from the fridge and removes any bacteria developed due to the low temperature protecting your food.
Super Freezing & Super Cooling: It protects foods from defrosting when fresh foods are added to the fridge. It prevents existing food to defrost and the new foods to cool down faster and then the fridge switches to original temperature to protect the existing food.
Humidity control: It adjusts the humidity constantly by collecting the air into central evaporator rather than leaving it to build up ice inside the appliance and on food. The resulting condensation is sent out and evaporated in a separate collecting pan.
Price: It is placed at a higher end at a price of SAR 6365 which is the only roadblock for this product.
Model No: RT58K7050SLB
No Frost: It prevents food from frosting and keeps the food in the required temperature always
Freezer on Top: It has a separate freezer on the top and the freezer and chilling counters have separate cooling system thus eliminating any kind of dependency.
Moisture Content: Maintains upto 70% moisture all the time compared to the regular 30% moisture content in conventional fridges. This ensure food is fresh and moisturized without drying up.
Flexible Conversion Modes: You can switch the freezer to the normal fridge when there is a lot of fresh food to store and you do not have anything to freeze per say. It also has switch off mode for freezer to save energy when not required .
Price: SAR 4599.
Model No: GR-A395ABEZ(DS)
Direct Cooling: It is equipped with frost free design providing a direct cooling system for the fridge
Lights for Convenience: Equipped with LED lights internally for visibility
Best for Small Families: With capacity of 10.98 Cubic feet, its perfect for small families for their needs.
Classy Design: With its dark silver finish it daunts a classy look.
Price: SAR 2080
Model No: DFS140HL
Mini Fridge: Capacity of 2.9 Cubic Feet i.e about 83 litres perfect for bachelors who need a small storage for food. Also can be used to specifically store alcohol maintaining it as a mini bar.
Energy Consumption: It consumer very minimal energy and is quite efficient in that perspective
Key Locking Feature: You can save your items safely with its key locking feature to avoid stealing of costly food items or alcohol .
Price: Just priced appropriately for its size and functioning at SAR 495
Common FAQs in Saudi Arabia
What does inverter compressor do in a refrigerator?
A compressor is the part of the fridge that converts the refrigerant from gas to liquid and operates according to the temperature in the fridge and runs at full speed when it needs cooling down. It stops completely when the temperature is low enough and works like a thermostat. In simple terms it starts slowly, then increases its speed and as the desired temperature is reached, decreases it again just enough to maintain the temperature.

Which one is a better: top-freezer or Bottom freezer?
Both have their advantages and disadvantages. A top freezer is cheaper and more energy-efficient. The bottom freezer is closer to the compressor, which is tucked underneath the unit in the modern refrigerator, making it harder for the compressor to work. Whereas a top freezer is further away making it easier to keep heat out with less effort.
However, bottom freezers are more spacious than top freezers and can adapt better to larger frozen items. This is so because, there are often organizing baskets or shelves to help you keep everything in order, as well as shelves on the door. This is not seen in top freezers as those are generally just wide spaces.

Which gas do the refrigerators contain?
With rise in awareness for the environment, many less harmful gases are being used in the modern refrigerators. Let's discuss them in detail:

Tetrafluoroethane
Tetrafluoroethane is a non-flammable gas used primarily for "high temperature".
This refrigerant gas is one of the most commonly used gases that you can find in almost all existing refrigerators. This gas is effectively condensed so that it can cool the surroundings of the machine without causing the problem of ozone depletion.

Chlorofluorocarbon
Chlorofluorocarbon is a hydrocarbon that consists of one or two carbon atoms, where hydrogen atoms are replaced by chlorine and fluorine. The use of this gas is being phased out as it is harmful for the ozone layer.

Polystyrene
It is a popular insulator used as internal padding in the refrigerator to keep heat out of the machine. It is affordable and also increases the internal temperature of the machine and thus helps to provide effective cooling.

Acrylonitrile
Some modern refrigerators today use this effective insulator that acts as an ideal barrier between the surrounding heat and the interior of the machine. This insulator is very easy to clean, making it a preferred option to use.

Is it true that the refrigerator consumes more power in summers?
Yes, they do, because if the ambient temperature outside the fridge is warm, then the fridge will run more often as it absorbs heat from the surroundings. It tends to be warmer out in the summertime. This is completely bound to the laws of physics.
If it was winter and the fridge was outside and the outdoor temp was 10 below zero, then the fridge would never run..
However, if the fridge was in your home and you kept the temperature constant at say 74 degrees Fahrenheit all year long, then the fridge would run exactly the same and would not consume more power in the summer.

How long a refrigerator takes to make ice?
Usually, it takes about three to four hours for the water to freeze in a freezer as ice is made in a standard ice tray. Water freezes when it reaches 32 degrees Fahrenheit (0 degree Celsius), but the time it takes to do so depends on several factors. Like the size of the ice cubes and the air temperature of your freezer. Say if you have an unusual ice tray designed to make very small ice cubes, these will freeze faster than large blocks of ice as ice begins to freeze from the outside to inside. This means that an ice tray that has air space between each cube will freeze faster than one that merely has dividers.
Now, most home freezers are set at 0 degrees Fahrenheit, which is optimal. However, if you leave your freezer open or fill it with room-temperature food at the same time you make your ice, you'll unwittingly raise the air temperature in the freezer, which will slow down your ice making process.
The trail to a Perfect Kitchen
I understand how important it is to get a perfect refrigerator for your kitchen, as its a once in a while purchase. Also, I hope that this article was helpful for you as it is a hectic task. One needs to consider various parameters such as brand, capacity, door type and price before making the purchase. Now, a perfect kitchen is the one that provides smooth functioning of the work. So it is best to invest in advance appliances such as a dishwasher or food processor. Visit these sites for interesting suggestions for the trail to a perfect kitchen.