Going to Saloon every time there is a party or special occasion is lot of money and also time consuming. Instead having equipment at home for hair styling is perfect for any occasion. No styling is complete without the use of dryer. Which hair dryers are best in Saudi Arabia is here in the article. Everything from specifications to prices to the brands is all compiled together for your ease.
Quick List
Features to look for in the Best Hair Dryer
After thorough research, I have listed the features that you should look for while buying a hairdryer in Saudi Arabia. Have a read, and make your purchasing simple.
Types of Hair Dryer
Buy a hairdryer which suits your hair type be it short, medium, long, curly, wavy, straight, thick or scanty hair. Picking an appropriate hairdryer will help you achieve quick results while drying your hair. The different types are:
Ionic: Ionic hair dryers are a fit for medium hair. So you shouldn't purchase it if you have short hair. These hair dryers dry the hair without eliminating the moisture from your hair along with making them smooth. They are quick.
Ceramic: This type of hair dryer suits all hair types, be it thick and curly or scanty and naturally straight. These hair dryers do not damage your hair and provide even heat for drying the hair.
Tourmaline: Tourmaline hair dryers are suggested for thick and curly hair. These are the safest hair dryers known to generate heat uniformly. They make your hair soft and shiny and cause less damage.
Heat Control Setting
The suitable hairdryer for you would be one that offers you multiple heat control setting options, depending on your hair type. Just ensure you adjust the hairdryer with low heat for getting the fancied results. Moreover, this won't cause much damage to the hair, though it might take some time.
Cool Shot Button
Always look for a hairdryer that is equipped with a cool shot button as you will be able to use your hairdryer for the purpose of drying as well as styling your hair. The so-called button cools down the temperature of your hair after drying it which ensures the sealing of the hair cuticles, which is the outermost layer of the hair strand.
Weight of your hairdryer
If you want to get a hand-held hair dryer then you must consider its weight. Using a bulky and heavy hairdryer is really inconvenient to hold or carry it around. So you should look for a hairdryer that is lightweight and can style your hair easily.
With no more delay, here are some of the best brands of hair dryers that you can select from. Select one that fits your needs.
Easy Cleaning: The removable air flow filter allows you to remove it and clean it easily whenever required.
Cool Shots: This features lets you set hair through the cool air once you are done with styling for the final touch up.
Tech Specs: Philips Thermoprotect comes with a powerful 21000 W DC motor and has 6 speed and temperature combination settings providing you the choice of hair styles you need.
ThermoProtect: This technology enables quick drying of hair without damaging the hair from overheating. It is safe to use and doesnt do any damage to it.
Price: This costs SAR 131
Quick Drying: This Babyliss hair dryer has a 2100W power output and 75 km ph air speed for super fast drying. You can blow dry your hair at your required pace and temperature with its three speed and temperature settings.
Easy Styling: The dryer comes with an adjustable diffuser for your styling need and you can style your hair as you require it at ease and they are easily detachable and adjustable . The concenterator nozzle is also include for increasing volume during the styling.
Energy Saving: The hair dryer allows you to save energy up to 25% which is a plus point in this.
Price: This dryer would cost you SAR 110.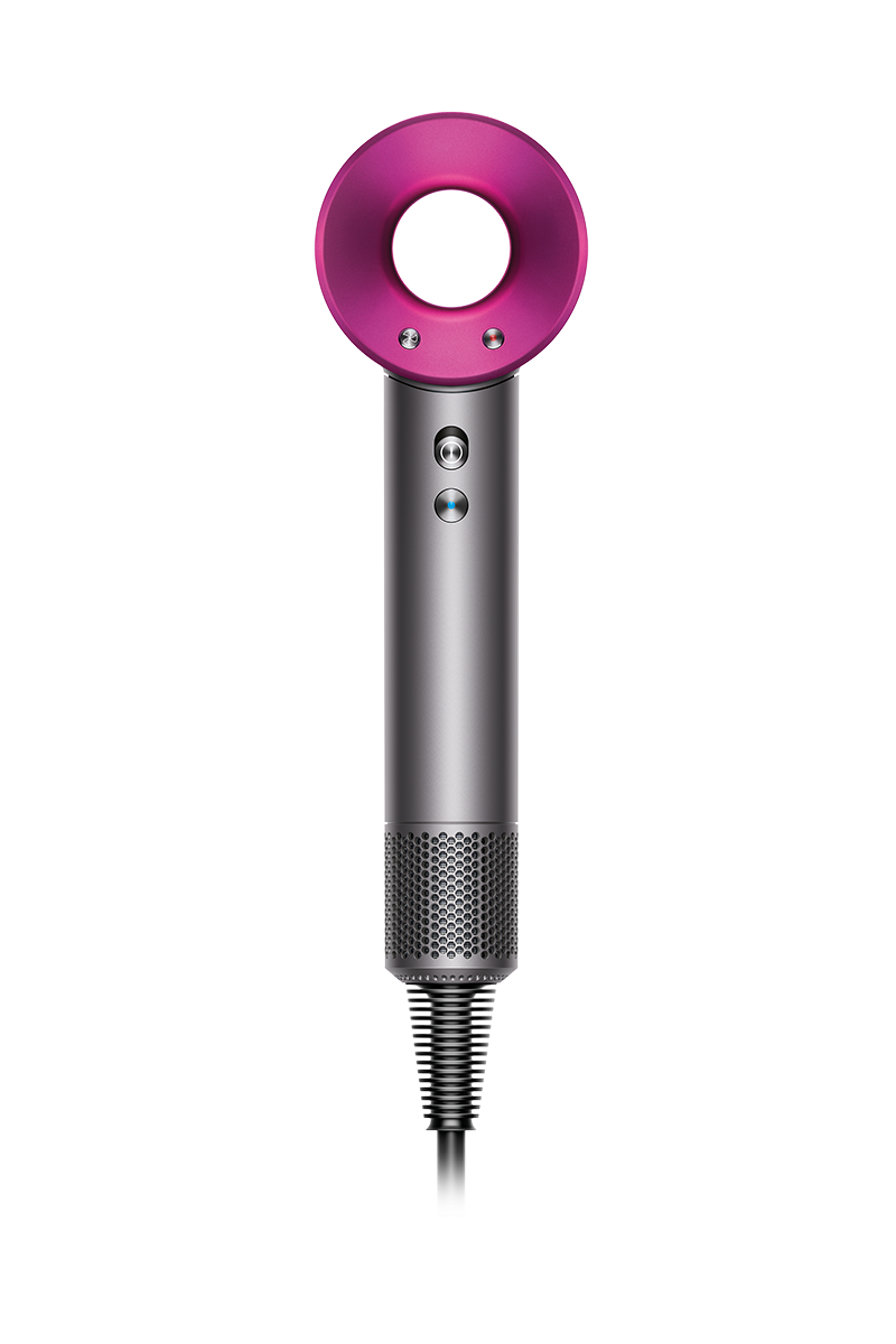 Speed & Heat Settings: Dyson supersonic is a premium hair dressing dryer with 3 speed settings and 4 heat settings required for multiple hair styling requirements. The speed could be chosen from low, medium and high, whereas the temperatures 100°C fast drying and styling, 80°C regular drying , 60°C cooler drying and diffusing
and 28°C constant cold could be used.
Air Multiplier Technology: To produce a jet of air required for fast drying it uses the amplification technology for air. The digital motor of 1600 W spins 110,000 rpm propelling 13 litres of air every amplifier second.
Over Heat Protection: This measures the airflow temperature 40 times to provide extra care from the over heating up of hair.
Magnetic Attachments: The attachments are magnetic very easy to fit and rotate. Styling nozzle provides constant and smooth airflow for drying, the air diffuser reduces frizz and give beautiful curls and the styling concenterator gives you high velocity of airflow for perfect and quick setting of hair.
Warranty: This dryer comes with a 2 year warranty.
Price: This is a highly sophisticated styling dryer hence costs way higher than all the options at a price of SAR 1769.
Model No: HD380
Ionic Function: The static created in generally by dryers is combated with millions of ions using the ionic function. It keeps your hair shiny visibly and attractive.
Compact & Lightweight: Its lightweight and easy to use in 360 degree without any difficulty.
Cold Shot: This feature fixes your hair perfectly giving you final touch ups after the setting with the cold air.
Heat Settings: This has 3 heat and 2 airflow settings thus allowing you to try lot of styles and giving you the flexibility in those terms.
Hanging Loop: This daunts an extra hanging loop which you can use to easily hook on the dryer anywhere easily.
Price: This is available at a price of SAR 200.
Infrared Technology: Philips Moisture Protect Dryer provides high efficiency in drying the hair using the infrared technology to diagnose and protects the natural hydration of hair by adjusting temperature accordingly.
Drying Speed: It has the 2300 W powered motor drys at a speed of 120 km per hour delivering remarkable results. The dryer comes with 6 speed and heat combination settings for your requirements.
Heat Control: It provides optimal drying temperature and additional protection from overheating the hair. MoistureProtect sensor that measures the temperature of your hair and automatically switches it down once the hair is dry.
Cool Shot: The Cool Shot button provides an intense burst of cool air that can be used after styling to finish and set the style.
Price: This costs slightly higher price at SAR 499
Enjoy your good Hair Days
Now, After going through the complete article, select one of the best hairdryers in Saudi Arabia that suites your requirements. Always look for one that will last you in the long run, hence don't compromise on quality. So, choose wisely. You may also consider purchasing the best hair straightener in Saudi Arabia if you have wavy, curly, dry or frizzy hair.